I purchased the Five Little Pumpkin project pack from Hands of a Child last month because I wanted to add something for the season to our little homeschool. This pack is for children between preschool and 1st grade, and it was pretty well suited for my four-year-old kindergartener. It was simple to order the ebook and print it out - no waiting for shipping!
There were many activities to complete or choose from. The project pack is set up in a five day format, with the student learning one verse of the Five Little Pumpkins rhyme every day during a "circle time" with the parent-teacher. Several of the activities are centered around the letter P, and some are centered around counting to and adding numbers to five, while others center around the color orange and pumpkin botany. The graphics for all of those activities are included in the ebook with the lesson plans. There is an art project or a craft listed for each day, too, though the materials for those are not included in the download. The materials are, however, simple to find - we had most of them in the house, and the one that we didn't have we were able to substitute for with a little creativity.
Here's what our pages looked like when they were completed. We left out a few activities that didn't pertain particularly to pumpkins. That's because we were putting the projects on the second P page of the alphabet book that we are building as part of My Father's World Kindergarten. So, this picture isn't of the traditional lapbook format, but of what worked for us for the moment. (That's another blessing of a project pack - you can follow the diagrams for assembly or you can put it together any way you want!)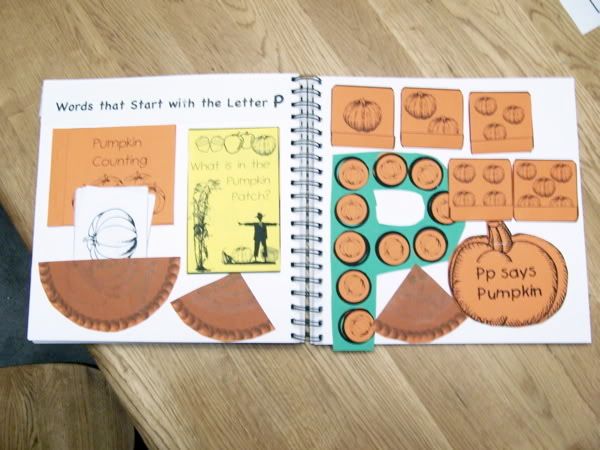 A sample of the project pack in lapbook format can be seen here at
In the Hands of a Child
. This is the third or fourth HOAC product that we have used in our school, and we have been very pleased with the quality of their products and exceptionally impressed with their customer service.