One of my grandmother's favorite things to say was "if it doesn't kill you, it will make you stronger." This phrase was her answer to most complaints – even her own. If I had talked to her on the phone today, I'm sure I would have heard it because I had the kind of morning that leaves you wanting to run away and hide from the rest of the world – or at least from my three-year-old. Nothing was going my way at all, and Bookworm#2 was in the mood to be difficult.
I have to think that Grandma's favorite reply to whining is somewhat similar to God's view of parenting. It's not a sport for the faint of heart. Children are precious. According to the psalmist: "children are a gift of the LORD, The fruit of the womb is a reward. Like arrows in the hand of a warrior, So are the children of one's youth. How blessed is the man whose quiver is full of them; They will not be ashamed when they speak with their enemies in the gate" (Psalm 127:3-5). This morning, it seemed like my little blessing was bent on driving me out of my mind – he was disobedient, he stole toys from his best friend, he climbed things he knows not to climb on, he threw things that he knows not to throw, and he opened and ran out the front door without permission. Each event had its swift and appropriate consequence, but one offense continuously followed the other until I was spinning out of control – that point in which I must run to the throne of God, or wind up in jail for child abuse. It was just that kind of day. They come – and (praise the Lord) they go. I could hear my grandmother – "if it doesn't kill you, it will make you stronger."
Such is the strange relationship between parent and child. It either drives you closer to God, making you stronger, or it drives you away from Him, slowly killing you. What have you spent the most time worrying about since you became a parent? (hopefully, someone says "my children"). What makes us worry? Why do we become so anxious about our children? (or what keeps you from worrying, if appropriate).
It is through my children that I have been taught to pray, to believe God, to hang on to God's Word even when it is declared impossible, to rest in the knowledge that God is in control, and now, to obey my Lord joyfully at His first request. The very things I want to teach my children are the things that God uses them to teach me. I am just now beginning to learn the lessons that God gave Bookworm#2 to teach me, but the lessons Danny taught literally changed my life.
It was Danny who taught me to pray – and not just to ask for enough, but to ask for God-size answers to man's problems – to ask for miracles no one would ever explain. The morning Danny was born, we begged God to lengthen his life – we were told he wouldn't survive more than 48 hours. On his fourth night, several groups of friends in different states and cities prayed all night for him and for us, and on his fifth day, his labs stabilized, he came off his ventilator, and he moved to the grow-and-go-home room of the NICU. A friend pointed out Psalm 116 to us, and we began to pray it over Danny often – "For the Lord will save Danny's soul from death, his eyes from tears, and his feet from stumbing, and he will walk before the Lord in the land of the living." Six months later, when his overall diagnosis finally came, the neuromuscular specialist told us that he would never walk or run, or sit up, or even smile. At that moment, Danny grinned at her. The doctor was shocked, but we knew that this was God's promise for Danny at work. The only things that came easily for Danny were smiles and laughter and love. Everything else from eating to sitting to standing to walking, he worked hard for, and we prayed consistently for God to show himself through Danny – to us and to the rest of the world.
And that is what He did. God's promise was that Danny would walk before the Lord, and he did – finally, after a lot of really hard work. He walked with his walker at MiniLaps 2004 in front of about 350 people, just before his fifth birthday, and as he walked, his story was read and all those people could see what God had done in Danny.
It was the next week that Danny began to fade. He had very little energy. He didn't seem to feel well. He wanted to be with me constantly – on my lap or in my arms. These were things he'd contended with before, and we continued to stand on the promise we had been given for him, but I knew in my heart that this illness was different. I had to find some new scriptures to stand on, because worry was threatening to consume me. I went around reciting, "Be anxious for nothing, but in everything by prayer and supplication with thanksgiving let your requests be made known to God. And the peace of God, which surpasses all comprehension, will guard your hearts and your minds in Christ Jesus" (Phillipians 4:6-7). It was evident that God wasn't finished teaching us the lessons that went along with the name He had give us for Danny – Daniel Caleb means "God is sovereign, or God is in control" and "He is faithful."
We went to all of the doctors, we tried new medications, we tweaked his diet some more – we did everything we could to make him feel better. The doctors did everything they could to make him feel better – and just when we got him feeling better enough to play again, he caught a virus, and then another, and another, and another. I was afraid, but I knew that the Lord didn't give me a spirit of fear, but of power and love and self-control. Danny even began to be afraid, but he knew that Jesus didn't give him fear, Jesus gave him POWER. Then pneumonia set in and his heart wasn't working as it should, and he couldn't come off of the ventilator like he had so many times before, and then he died.
You'd think that would be the end of the lessons Danny taught, but we are still learning from him daily that God is faithful. You can ask God for a miracle if it's the desire of your heart, and He will be faithful to give you what is best for everyone involved. You can ask Him for the impossible, and He'll give you the grace to accept what you need. And eventually, he'll give you the grace to want what He can give you. You see, on Danny's last night, I was finally able to change my prayer for him: "Lord, I ask you for my child – please give me a miracle – but what I really really want is Your will for my son. Oh Lord, thy will be done." And when His will was done, and Danny was running for the first time through the streets of heaven, there was peace in my spirit in spite of my deep sorrow. When I am angry, I can picture Danny as he was the day he died – with a trach, tied to a ventilator, and confined to either his bed or his powerchair and unable to audibly laugh – and then I can see him as he must be in heaven – running, jumping, dancing and singing like a little boy should. I know He got God's best for him – and I know that my God is faithful to give me what is best for me. I don't know what it is yet, but whatever is before me to do is not something I could do if I was also Danny's constant caregiver.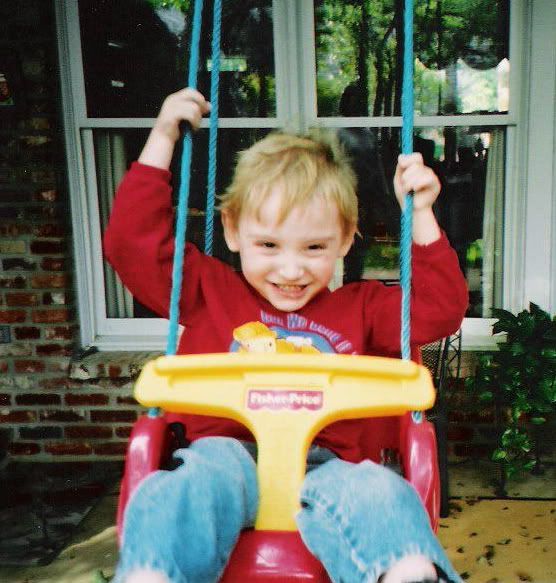 This has come out to be more testimony than lesson on praying for your children, but here is what I've learned about a parent's prayer in a nutshell.
Never be afraid to ask for the impossible – we have a very big God. Don't miss out on the lessons that He will use your children to teach you. Don't fail to train your children up to walk with the Lord to the best of your ability. And while you do your best, remember that God's plans are probably different from yours. His ways are higher than our ways, and His thoughts are higher than our thoughts – and His ways and thoughts are much better than ours. Don't be afraid to find a promise in the Bible and stand on it for your children. You can never pray wrong if you are praying the Word of God in context. Ask for the desire of your hearts for your children and your grandchildren, but find a way to pray, "Oh Lord, your will be done" because our Sovereign God can see so much more than we can, and His ways are guarenteed to be the best. No matter what happens, He will be faithful to use your children as a tool to make you into the person He wants you to be.